textile tantrums
This workshop is based on sharing my approach to my own work. I use mixed media collage and hand stitching to focus on the intimate detail of my stories.
This is an opportunity to extend your imagination and visual vocabulary, and to communicate an individual narrative quality in your work.
Lesson Plan
There will be demonstrations and exercises designed to give an insight into my favourite techniques, and the way I use them to achieve the desired effect. We will play with some unorthodox ways to use fabric and stitch, including rip, melt, and burn; stain, mark, and print; layer, conceal, and reveal.
Also, there will be a little digging and delving, encouraging you to find the links and associations with your materials.
My basic plan for the workshop is that you will work on a series of small piece, and incorporate different techniques as we try them out.
Requirement List
calico or cotton, as backing to build your work on to. Half a metre will be plenty.
a bunch of fabric pieces for use in 'collages' : go for contrast and variety in colour, patterned / plain / hand dyed ; transparent, textured, … mostly light weight
small amounts of synthetic organza some light weight silk, white or a pale colour
little bits of lace, ribbon, trims, and any other materials you like to work with
found objects or embellishments : beads, buttons, feathers, leaves, shells, bits of old earrings, any odd things you collect.
A selection of the threads you use for hand stitching ( I use mostly Cotton Perle No. 8 or similar, plus finer threads, for attaching beads etc.) needles to suit your threads.
all your usual tools of the trade: scissors, pins, etc.
And a hand towel, or kitchen paper towels
a few photocopies ( actual photocopies, not from your computer ) of small images, or photos …….. anything you like. I'll have some for you to use too. ( these are for transfer printing and need to be clear images with high contrast, and if they include text, it needs to be reversed )
a packet of incense sticks, matches, a tea light candle and something to stand it on
If you don't have some of this stuff, don't worry, I will have it, just make sure you cover the basics.
You might like to bring along a source of inspiration, something that is evocative for you, or your ideas on a current theme.
There will be a charge of $10 per person to cover the supplies and equipment that I provide at the workshop … notes, specialty fabrics, vliesofix, gilding foils, etc.
Venue Requirements
The main requirements for a workshop venue are: Ample table space for all participants and appropriate seating.
An extra two tables for me and my stuff.
Access to water, but not necessarily a sink in the room.
Good lighting. Power points.

molly

work by Christine Grevis James at Geelong forum 2009

work by Adrienne Cobby at Orange Forum 2011

work by Alison Cox at Orange forum 2011

work by Cheryl Kennedy at Geelong forum 2009

tidal drift (detail) by Harmina Balch. class work at Geelong fibre forum

work by Bhajan Atwal at Orange forum 2011

work by Rhonnie at Wanganui summer school

work by Christa Sanders at Orange forum 2011

work by Jan Scudamore at Orange Forum 2011

work by Jenny Dowde at Orange forum 2011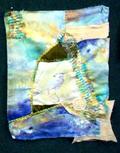 work by Jude Whaites at Orange forum 2011

work by Lynda Peters at Orange forum 2011

work by Maggie Showell at Orange forum 2011

work by Natalie Sanders at Orange forum 2011
Workshop Info
6 hours a day
for anything from 2 to 6 days
Skill Level »
suitable for all levels
Class Size »
12
Cost »
$50 per teaching hour , plus travel expenses and accommodation