stitched story book
Create your own story book - truth or fiction - with cloth and hand stitch.
In this workshop we will begin by constructing each 'page' for your book separately, using colour, texture, image and words, and then we'll construct a tailor made cover to fit with your pages.
My aim is to help you achieve the effects you wish to create by introducing lots of options and design solutions, and by sharing some of my favourite tips and tricks.
You will need to decide on a theme for your book, and bring along appropriate materials and embellishments. Your theme could be as simple as a colour or fabric choice, or it could be about family, a favourite place, or a memory... anything you like.
Lesson Plan
You will learn a very simple binding method, which will allow you to bind the pages into your book at any stage of the process. I will supply specially chosen materials to make the basic book structure, which will form the foundation for your experiments with cloth and stitch. You can try out several of my favourite techniques for creating interesting effects with your materials, and begin to build the content of your book.
Requirement List
You will need all your usual tools of the trade. Bring any of the following that you happen to have:
Sharp pencil, good ruler (in mm), a set square, scissors, craft knife (snap blade) a cutting mat, a couple of sewing needles (I use size 18 or 20 tapestry needles), a dead ballpoint pen or a knitting needle or a bone folder (for scoring),
Bring fabric to use for book covers, inside and out . Fabrics that are not too heavy are best :- calico or cotton as a base fabric to work on to, colour and pattern to create with, also silks, synthetics, glitz, lace, trims, braids, ribbons
Transparent fabrics such as organza can be very interesting, especially if layered over other fabric or images.
Bring threads and suitable needles to stitch on your fabrics.
The embellished fabric will be bonded and/or stitched to a base which I will provide.
Additional decoration can be achieved by stitching or gluing on objects such as beads, feathers, leaves, found objects, whatever you like. Give this some thought and bring stuff.
bring a good selection of fabrics to play with. ( but you only need small amounts ) Go for variety, or collect for a theme.
I will provide all the construction materials you will need for the books: the base to build your covers on, interlining base for pages, fusible web, threads for binding, etc. . .
I also provide the essential equipment, and notes on technique.
There will be a charge of $25 to cover all the stuff I provide
Venue Requirements
The main requirements for a workshop venue are: Ample table space for all participants and appropriate seating
An extra table or two for me and my stuff
Access to water, but not necessarily a sink in the room
Good lighting Power points

book of Whanau 4

Fabric Journal 2

Aunty Noelene book

pages 2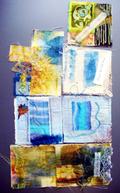 work in progress Robyn Grampians 2012

books from Te Kuiti class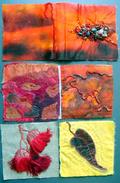 work in progress Lyn Grampians 2012

MP book 2

Fabric Journal 3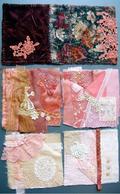 work in progress Annette Grampians 2012

journal

le journal

phantasy by Gay Downing. HB class
Workshop Info
6 hours a day
for 3 to 5 days days
Skill Level »
suitable for all levels
Class Size »
12
Cost »
$50 per teaching hour, plus travel expenses and accommodation